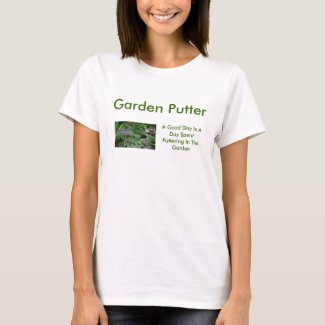 I'm just tickled pink this morning--having figured out how to create, design, and even sell (if ever you'd want one) my own Garden Putter T-shirt. My own will arrive this week.
Yesterday in the garden, it was all about steady preparation. I did my first mow of the season and started the layering of this year's compost--green and brown and a heavy spray of water to make the mixture nice and wet and ready for its magical microbial processing. Compost is the alchemy of gardening. Turning kitchen waste, grass clippings and leaf litter into the black gold that feeds the plants is one of the most rewarding practices of the gardener. I distributed last year's compost all around the beds in the front yard.
The temptation to run out and buy bedding plants was overwhelming, but fortunately, I held strong against it, because last night the air grew ever more chilly.
And before bed, I had to bring in all the pots on the deck. This morning it's nippy, but I plan to get out there to spread more compost on the beds and just "BE There."
The Putterer